Writing a novel is of necessity a solitary occupation. It is important to get out of the house sometimes. So it was that last Friday I headed off to Edinburgh to the Crime Writers Association conference. I was born and grew up on the north-east coast and am always happy to find myself heading north – and what a fabulous city Edinburgh is. And what a literary one: Waverley is the only railway station in the world named after a novel and the Scott monument is the largest monument to an author in the world. It's the city too of Robert Louis Stevenson and Conan Doyle – and also of the notorious grave-robbers and murderers, Burke and Hare, and of Deacon Brodie, respectable cabinet-maker and town councillor by day, libertine and leader of a gang of burglars by night. He was hanged on a gibbet he had designed himself and may have been the inspiration for Stevenson's Jekyll and Hyde.
And talking of crime,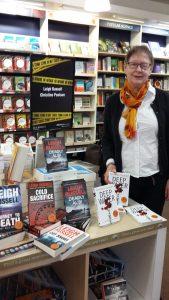 what a great bunch my fellow crime-writers are. Perhaps it is because we save our dark side for our writing, but in real life there is no friendly or more convivial group of people. And as always it was lovely to catch up with old friends and make some new ones, like Leigh Russell with whom I shared a table at an event in Blackwell's. There were fascinating talks by distinguished pathologists, a former head of CID, and a retired Deputy Chief Constable; there was a cracking after dinner speaker, the Rt Hon Leeona, Lady Dorrian, Lord Justice Clerk.
What a pity it is only once a  year. Roll on Shrewsbury next April!
Mark Easterbrook goes to see his writer friend, Mrs Oliver, to ask her to open a church fête. Mrs Oliver "in a state apparently bordering on insanity, was prowling around the room, muttering to herself . . .
'But why,' demanded Mrs Oliver of the universe, 'why doesn't the idiot say at once that he saw the cockatoo? Why shouldn't he? He couldn't have helped seeing it! But if he does mention it, it ruins everything. There must be a way . . . there must be . . .'
She groaned, ran her fingers through her short grey hair and clutched it with a frenzied hand. Then, looking at me with suddenly focused eyes, she said, 'Hallo, Mark. I'm going mad,' and resumed her complaint.'"
Feeling in need of comfort reading the other evening, I chose an Agatha Christie that I hadn't read for a while. It's definitely one of my favourites among her later novels: a feisty heroine, a wonderfully creepy atmosphere, superlative plotting – and it's funny too. One of the things I so much like about Christie is her ability to laugh at herself. That's always engaging. For Mrs Ariadne Oliver (brilliant name!) is a thinly disguised version of Agatha Christie (with a tiresome Finn instead of a Belgian as her fictional detective). And what amused me so much is that Mrs Oliver's struggle to make her plot work is all too familiar to us lesser mortals toiling in the field of crime fiction.
By the end of Mark's visit he has quite by accident happened to make a remark that offers Mrs Oliver a solution to her problem. And VERY SMALL SPOILER ALERT, she  in her turn has shed light on the plot of the novel. It's beautifully done. Chapeau, Dame Agatha! There is no-one quite like you.