I went to Québec because I love Willa Cather's novel, Shadows on the Rock, which is set there. (There are worse reasons). When I decided to go to this year's Bouchercon, which was held in Toronto, the opportunity to go onto Québec for a few days was too good an opportunity to miss.
Naturally I took Shadows on the Rock with me. I kept it for the plane from Toronto to Québec last Sunday afternoon. It is a rereading that I won't forget in a hurry. I arrived at the airport already exhausted by the lingering effects of jet-lag and four days of full-on conference which included two hours of meet-the-author 'speed dating' (don't ask!). I managed to lose – separately – both my boarding pass and my purse and though I was swiftly reunited with both, this rattled me.
Next, the flight which was supposed to leave at around 4.30 was delayed for two hours. At last we boarded. The revised arrival time was 7.45 and, engrossed in Shadows on the Rock, and enjoying it just as much as on earlier readings, I didn't at first notice that 7.45 had come and gone. When I did, I saw that it was dark by now and we seemed to be flying through grey cotton wool. Then the pilot announced that we couldn't land because of a storm over Québec airport. We hit a patch of turbulence and though I am not a nervous flyer, I began to feel uneasy as well as rather queasy. Then another announcement: the plane was being diverted to Montreal. There wasn't enough fuel for us to circle Québec airport indefinitely.
More turbulence and by this time I was beginning to wish that I had opted for the nine-hour train journey. Three quarters of an hour later, to my great relief we landed at Montreal. It seemed very likely that we'd be spending the night there and I thought wistfully of my hotel room in Québec. But in the end the storm subsided in time for the refueled plane to set off later that evening and around midnight I checked into my hotel very late and very tired, but safe and sound.
Was it worth it? Definitely! But it was certainly an eventful trip, and that was even without what happened on the coach trip to Niagara Falls. To be continued . . .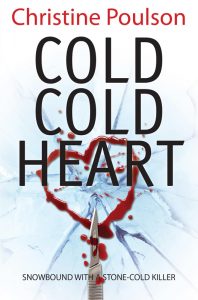 It's that time again in the publishing cycle: the time when I have to bend my mind to promoting my new novel. Cold Cold Heart comes out in the UK in November and in the USA in January 2018. It is always a thrill and a privilege to have a book published. But as for the promoting . . . That is another matter. I'm British! We don't like to blow our own trumpet.
Or at least it used to be the case . . .  This is what I read in the i newspaper a few weeks ago: 'judges for this year's Man Booker prize have condemned the breathless blurbs that overhype mediocre novels . . .' and rejected 'submissions accompanied by exaggerated claims by their publishers. "I learnt to ignore blurbs. They are outrageous in certain places,"said Tom Phillips . . . Fellow judge Colin Thubron [added) "In one case, a publisher submitted three or four novels and gave the same blurb to each of them, "the best novel since Tolstoy . . ."'
Perhaps publishers would do better to emulate the wonderful Ray Brooks, a London estate agent who was famous in the 1960s for brutally honest descriptions of the properties that he was selling. Here's an example. 'Do not be misled by the trim exterior of this modest period res with its dirty broken windows: all is not well with the inside. The décor of the nine rooms, some of which hangs inelegantly from the ceiling, is revolting. Not entirely devoid of plumbing, there is a pathetic kitchen and one cold tap. No bathroom, of course, but Chelsea has excellent public baths. Rain drips sadly through the ceiling onto the oilcloth. The pock-marked basement floor indicates a thriving community of woodworm, otherwise there is not much wrong with the property.' In spite of this – or because of it – he made a fortune.
I am not going to emulate Roy Brooks. But nor am I going to claim that my novel is the best thing since sliced bread. I will only say that I have done my best to write a gripping story, to entertain my readers and – perhaps – to keep them up past their bed-time. It will be for them to judge if I have succeeded.