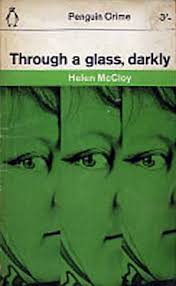 Not long to go now to the annual British Library event, Bodies from the Library, and I am busy putting together my talk, Murder in Mind: The Crime Novels of Helen McCloy. She is a fine writer who has been unjustly neglected. I intend to put that right. If she is known at all it is for Through a Glass, Darkly – a novel I find chilling even on rereading – but she was far from being a one-novel wonder. I'll be looking at the reasons why she sank out of sight so completely and saying why I think she is well worth reviving.
I've also been rereading with great enjoyment the novels and short stories of Cyril Hare in preparation for the session in which Martin Edwards and I will discussing him: Cyril Hare: Master of the English Murder. He is another writer who is not as well known as he deserves to be.
There will also be sessions on John Dickson Carr, E. C. R. Lorac, and much much more, including the chance to mingle with fans of golden age crime fiction. For details of what I am sure will be a splendid day, go to https://bodiesfromthelibrary.com
It's an exciting moment when your editor sends you the cover design for your new novel. It makes the whole enterprise seem so much more real. And I am delighted by what the designer has come up: truly and fittingly sinister, I feel. An Air That Kills is the third in the series and this cover continues the colour scheme and general design of the other two. I am lucky to have such striking covers.
Can a cover persuade someone to buy a book? Not sure, but at the very least it can grab the book-buyer's attention. And conversely a cover can put a reader off: that has certainly happened to me.
Does this mean I have actually finished writing the novel? Well, no, I still pondering the last few chapters as well as revising the earlier ones. But there's nothing like seeing the cover (and being given a publication date: 22 November) to light a fire under a writer …