When the going gets tough, the tough . . . buy books?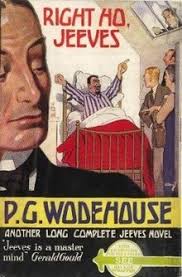 I couldn't be better placed for weeks of social isolation from the point of view of reading. I have enough books here to last for years  and years if you count books that I'd be happy to reread. And yet I am still buying them. I have just ordered another online (since you ask, a second-hand copy of The Funeral of Figaro by Ellis Peters recently reviewed by my friend, Moira, over at Clothes in Books). The libaries are closed and I need books to do research for my new novel  (no excuse for not getting on with this now that my social calendar is completely empty), so I have been ordering them from the Guardian bookshop. Yes, people are stocking up on tins of baked beans and loo paper and I am panic-buying books.
The question I asked earlier was, shall it be Camus's The Plague or Wodehouse's Right Ho, Jeeves. That is, shall it be serious reading or reading to escape (not that the two are mutually exclusive). A bit of both, I hope. I would like to say that I shall be using this enforced leisure to read À La Recherche du Temps Perdu, but just as people read Agatha Christie while fire-watching in the Blitz, I am more likely turning to be turning for solace to Golden Age crime fiction or heart-stopping thrillers. And then there are those great comforters, Jane Austen and Trollope. I am currently listening to the divine Juliet Stevenson reading Mansfield Park: sheer bliss.
But there is another category of book that is apparently selling well: books like Camus's The Plague
and Stephen King's The Stand, books that reflect the spirit of the times all too closely. I can't class myself with those writers, but rather spookily, it turns out that I have written such a novel myself. In An Air That Kills Lyle is sponsoring research into the mechanisms that allow strains of animal flu to jump the species barrier and infect humans. Katie, my scientist heroine, imagines the impact of a such a disease in this age of mass communication: the virus spreading out 'with the slow inevitability of ink released into water. She saw people, boarding planes, taking their deadly cargo to all corners of the globe.' I did understand when I researched the novel last year that it was only a matter of time before something like this happened, but I wasn't expecting it to happen more or less straight away…
When I was invited to submit a short story for an anthology of crime stories based on songs by Joni Mitchell, I was intrigued by the idea. I chose: 'The Gallery' on Clouds (1969). This was a song that I used to listen to endlessly as a teenager. I wanted to catch some of the flavour of what it was like to be young at the time when this album came out, so I decided to set the story partly in the past – when a young girl goes missing – and partly forty years later, when her friend discovers the truth of what happened.
The song fascinates the two girls just as it fascinated me (and still does). The girls discuss it. 'Was it a kind of Bluebeard story about a man who collected and destroyed women? The refrain "Lady, please love me now I am dead . . ." was deliciously creepy . . . One thing seemed clear. The woman in the song was trapped. She had become just another picture on the wall like all the other women in the man's life . . .'
There is no friendship quite like the friendship of teenage girls and I drew on my memories of that and of the clothes we worn and the things we did, lolling around with face packs, trying to read our fortunes with Tarot cards, reading and rereading copies of Jackie magazine. The chocolate brown mini-dress with a gold zip and a mandarin collar and the burgundy corduroy trouser suit in the story are what I was wearing as a sixteen year old and I can see them in my mind's eye as I write this.
Like the girls in the story, I grew up in the north-east and the holiday in North Wales where Yvonne goes missing is like the one I went on with the Methodist youth club. Of course the actual events of the story are all made up, but this was the fertile ground from which they sprang.
I am still very much in touch with my dear friend Pauline from those days and she is a great fan of my writing. I hope she'll enjoy reading this story as much as I enjoyed writing it.
The Beat of Black Wings: Crime Fiction Inspired by the Songs of Joni Mitchell, edited by Josh Pachter, is published on 7th April by Untreed Reads in ebook, paperback and hardback. Great cover and great title!
Something I could never have imagined when I started writing fiction was that I would one day find myself on a panel at the Festival of the International Society of Neglected Tropical Diseases. But so it was yesterday at the Wellcome Institute when I joined Mojie Crigler, the co-author of Under the Big Tree: Neglected Stories from the Movement to End Neglected Tropical Diseases and Professor Peter Hotez of Baylor College of Medicine, author of Vaccines Did Not Cause Rachel's Autism (larger than life in every sense – he joined us by Skype from Houston, Texas). The session, on writing about disease, was very able chaired by Marianne Comparet, one of the organisers of the festival. I'd been invited because my latest book, An Air That Kills, has a story-line involving research into malaria (and murder by mosquito!). The question of how scientists can make medical issues accessible to the genuine public is a timely one and we had a stimulating discussion.
The festival was a fantastic event and I met interesting people. It was held at the Wellcome Collection, is one of my favourite places in London. It has some great free exhibitions – there was one on forensics a few years ago – plus a nice cafe and an excellent shop. It was lovely to see my book and those of my fellow panelists on display there.
A coda: there are some brilliant researchers working on malaria, but it is still causes the death of half a million people a year, mostly in sub-Saharan Africa. A child dies of malaria every thirty seconds. I didn't know that until I wrote this book. But now that I do know, I support a charity, the Against Malaria Foundation, http://againstmalaria.comwhich provides bed nets impregnated with insecticide to people at risk.