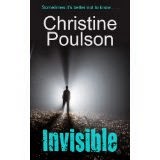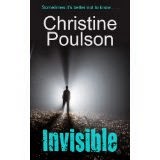 It's always a red letter today for a writer when a new novel comes out, so I am delighted that my new novel, Invisible, published by Accent Press, is now up on Amazon: http://amzn.to/1t1Kcsm. At £1.82 it is a snip. The paperback will be available shortly.
The roots of this novel are in a trip that my husband and I took to Sweden in 2001, so it's been on my mind a long time. It's a stand- alone suspense novel written from several viewpoints.
When the novel opens Lisa is in the perfect relationship. Once a month she escapes from caring alone for her son, who has cerebral palsy, and meets Jay, just for the weekend, free from all responsibilities. It's perfect – until the day when Jay doesn't show up, and everything she thought she knew about him turns out to be a lie.

For Jay it was perfect, too. Five years ago he fled witness protection after his wife and son were murdered and began a new life.
But he shouldn't have let himself fall in love with Lisa, because now the villains are onto him and he must disappear again.
Realising now how much she loves Jay, Lisa tries desperately to find him, but she is not the only one, and the more she goes on, the more dangerous it becomes…
There'll be a book launch. I'll keep you posted.
This morning a book arrived in the post, another Michael Gilbert, Body of a Girl, which I ordered through Abebooks. Once I have read this, I think I'll have read all of his. It was sent from Green Earth books, Auburn, Washington State, not very far from Seattle. Including postage, this cost me only £4.96, less than the price of a new paperback, and it's a nice copy too. It took two weeks to get to me. I didn't know anything about Auburn, so I looked up it up on Wikipedia and was delighted to discover that it had originally been called Slaughter, after a Lt William Slaughter, who had died in skirmish there in the 1850s and the main hotel had been called 'The Slaughter House.' A great place to set a crime novel! I wonder if anyone has? Later on it was renamed and the name was taken from the first line of Oliver Goldsmith's The Deserted Village. Present Day Auburn sound like a a pleasant place, with some original Craftsman's houses, and I liked the sound of River's Bend, described as 'a small residential neighborhood nestled along the Green River.' I imagine it raining rather a lot. I don't suppose that I'll ever visit Auburn, but I have enjoyed this brief exploration online.
On another subject entirely, readers sometimes ask me when my next novel will be coming out. It has been a while coming, but I'm very pleased to able to say that today I signed a contract with Accent Press, a lively independent publisher based in Wales. They'll be bringing out my new novel next year.