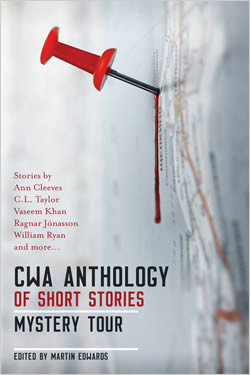 This can be a difficult question to answer. But in the case of my short story, 'Accounting for Murder,' which appears in the new CWA anthology, Mystery Tour, edited by Martin Edwards, I know exactly where I got the idea. About eight years my husband and I bought a small, derelict house in Northern France. Restoring it has meant over the years many trips to Monsieur Bricolage, the DIY store. Sorting out some papers a while ago, I found the receipt from one such trip, listing the items that Peter had bought. It occurred to me that it told a little part of the story of the restoration – and right there and then, I had the idea of writing a short story consisting entirely of receipts. And that is more or less what I have done with 'Accounting for Murder.' It took me a while to see how I could do it, but once I had, the story almost wrote itself.
I was thrilled when it was accepted for the latest CWA anthology, Mystery Tour, which comes out this month, published by Orenda in hardback and paperback with a classy cover. My copies have arrived and  I am happily working my way through stories by Ann Cleeves, Kate Ellis, Martin Edwards, Kate Rhodes and many other terrific writers, some of them old friends, others new to me.
Might it not be the perfect Christmas present for the crime fiction fans in your life?
Last Saturday I was at the launch of The Starlings and Other Stories at Waterstones in Wrexham. Nine of the twelve authors were there along with David Wilson, the photographer whose work inspired our stories. I did wonder if we would outnumber the audience (it's been known to happen with smaller groups of writers than this!), but there was a good turn-out and the audience was responsive.
It is rare that publication of a collection of short stories is marked in this way, but truly there is something special about this book. I don't know of any other that combines images and texts in quite this way. These aren't illustrations: as I've explained in an earlier blog, the photographs came first. And what photographs! As Chris Simms writes in the introduction 'these weren't the cosy compositions of tourist shop tea-towels. By his own admission David's photographs – beautiful as they are –  often carry "a sense of eerie foreboding." Brooding woods emerge from pale mist. Lonely farmsteads are threatened by stormy skies. An abandoned building leaves you wondering what happened to those who once lived there.' Perfect starting points for a crime-writer and it was fascinating to see what everyone had made of it.
It was lovely to meet the team at Graffeg who are responsible for a beautifully produced book along with the other writers, and – especially – David Wilson. The photograph shows from left to right in the front row, myself, Margaret Murphy, Kate Ellis, Helena Edwards; in the second row Toby Forward, Ann Cleeves, David Wilson, Martin Edwards, Cath Staincliffe, Chris Simms.
I got back from my holiday in France to find a treat waiting for me: a copy of The Starlings & Other Stories, edited by Ann Cleeves. A while ago I wrote about writing short stories to a brief and mentioned this anthology, to be published by Graffeg, an excellent small Welsh Press: http://bit.ly/1WGllMk. The stories are all inspired by David Wilson's atmospheric black and white photographs of Pembrokeshire.
I loved writing the story and it was something of a departure for me: for the first time I've drawn on my academic specialism, Arthurian legend in the visual arts.
There are sites in Wales that have been contenders for Arthur's court, for the lake where Arthur received Excalibur, and for the last battle. I wanted to draw on that potent myth and bring it into the present day and I hope I've succeeded with my story, 'Weeping Queens.' Reading the other stories, I was fascinated to see that I wasn't the only one to be inspired by Wales's rich mythological past. There are some great stories here, and it's a beautifully produced book, too, with David Wilson's extraordinary photographs as a bonus.
We are having a book launch at Waterstones in Wrexham on Saturday 5th September from 12.00-1.30. Do come if you can. For more about the book and the publisher go to https://www.graffeg.com/product/the-starlings-and-other-stories/. If you pre-order you can save £5!