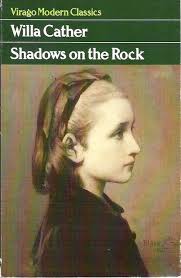 I flew into Québec on the 15th October, and by coincidence that is the same month that Willa Cather's novel. Shadows on the Rock, opens. 'One afternoon late in October 1697, Euclide Auclair, the philosopher apothecary of Quebec, stood on the top of Cap Diamant gazing down the broad, empty river far beneath him. Empty, because an hour ago the flash of retreating sails had disappeared behind the green island that splits the St. Lawrence below Quebec, and the last of the summer ships from France had started on her long journey home. . . Now for eight months the French colony on this rock in the North would be entirely cut off from Europe, from the rest of the world.'
It was the idea of this isolation that caught my imagination when I first read Shadows on the Rock (published in 1931). I wonder if Moira will love it as much as I do. It is a quiet novel, about love and loss and exile and longing. It has at its heart the loving relationship between the gentle Euclide and his twelve-year old daughter, Cécile, who runs the household since the wife and mother died two years earlier. We see in flashback how they came to be in Québec.
Historical fiction isn't a favourite genre of mine, but the details here seem so immediate, so real. This is a society that cherishes conservative values of tradition and continuity and the right way of doing things. The dying mother explain to the daughter how, for instance, she brought enough fine linen from France to last the winter. The sheets must be changed fortnightly, but they will not be washed until the spring, when Jeanette the laundress will come to take over the house for several days. 'Beg her to iron the sheets carefully. They . . . will last your lifetime if they are well treated.' She also hands on the French ways of cooking – food is important in the novel and is described in fascinating detail. Cécile nurtures the pot of parsley that is part of her mother's legacy to her.
The novel spans a year and there isn't really a plot, though the time encompasses an important event in the lives of father and daughter: the death of their patron, the Count de Frontenac, governor of Québec. He was a real historical character, as is the austere old Bishop, and they are described so vividly that they leap off the page:
'The Count had the bearing of a fencer when he takes up the foil; from his shoulder to his heels there was intention and direction. His carriage was his unconscious idea of himself, – it was an armour he put on when he took off his night-cap in the morning, and he wore it all day, at early Mass, at his desk, on the march, at the Council, at his dinner-table. Even his enemies relied on his strength.'
Modern day Québec doesn't look retain much of what was there in 1700. The buildings were of wood and were often destroyed by fire and rebuilt. But still it is a wonderful city and the marvellous site overlooking the St. Lawrence is the same. I wasn't disappointed. I enjoyed visiting the chapel and the museum of the Ursuline sisters who feature in the book and I took a boat trip on the river. Strolling around the streets in the evening after dinner, it seemed a magical place.
Having shared this much loved book with Moira, I am longing to know what she made of it. And now I do know! Here are her thoughts over at http://Clothesinbooks.com
I was thrilled when my friend Moira over at ClothesinBooks.com gave me a copy of this splendid book which brings together Tom Adams's original cover designs for Agatha Christie's novels. They are works of art in their own right. If I am looking to buy a second-hand paperback of an Agatha Christie, I always prefer one with an Adams cover. My copy of The Mirror Crack'd From Side to Side has the one that is featured here on the dust jacket and I think it is one of the very best of his designs. It inspired me to reread the novel (a late Miss Marple with a dazzingly original motive for murder!).
Moira's gift set me thinking how important book covers are – and how few really good and memorable ones there are these days. The current Christie covers are pretty insipid, though perhaps by now she is so famous that it doesn't really matter.
Authors do not have the final say, readers may be surprised to know. Though publishers do generally want their authors to be happy, untimately it is the marketing team who will judge what is most likely to sell the book. And it is not a neutral thing: a bad cover can actually deter a reader. I dislike covers which feature seductive women who have nothing to do with the plot and it has put me off buying one particular series.
I have been lucky with Lion Fiction, my current publishers, and with St Martin's Press, a little less so with Hale. Perhaps it is because of my background as an art historian, but it really matters to me what a book looks like, and I have been known to buy the US edition of Andrea Camilleri's novels rather than the UK ones because I prefer the covers.
I'd be interested to know how important it is to other readers. Do you judge a book by its cover? Any that you think are stunningly successful?
Once again my good blogfriend Moira (at Clothesinbooks.blogspot.com) and I are indulging in a bit of cross-blogging, in which we choose a book for both of us to read and put up a post about it on the same day. This time it is Happy Ending by Italian writer, Francesca Duranti (1987), also the book most recently chosen by the wonderful multi-national book group to which I belong. This post owes something to an illuminating discussion that we had earlier in the week and I'd like to thank the group for so much reading pleasure and friendship over the years.
The setting of Happy Ending is an estate in the countryside outside Lucca, and the time is a midsummer week-end sometime in the 1980s. There are three houses: the matriarch Violante lives in one, her son Leopoldo who is in a sexless marriage with his rich American wife, Cynthia, lives in another. The third is empty, waiting for the summer visit of Lavinia who was married to Violante's older son, Filippo. Their brief and disastrous marriage was cut short twenty years ago by Filippo's death and their son, Nicola, has been raised by Violante. The family are all observed by their friend and neighbour, Aldo, who has always been in love with Lavinia, who in her turn has been infatuated by a series of awful men. All the characters are blocked in some way and then a young man, a friend of Nicola's, arrives . . .
What I enjoyed most about this book was the setting: the houses, the garden, the drowsy midsummer heat, which made me long to go back to Italy. I wasn't so keen on the characters and I found Lavinia in particular very irritating. And when late in the novel Violante remarks, 'I have ruled like a czarina, and now they are all good-for-nothing,' I really had to agree. That summed up my feeling about these privileged, mostly idle, people. But maybe that is to take too seriously what is really a comedy in which, as in A Midsummer Night's Dream, Bergman's Smiles of a Summer Night, and The Marriage of Figaro, everything in the end is magically resolved.
And I did like Aldo and the account of how as a poverty-striken fourteen year old at the end of the war he wandered into a neglected estate and spied on a party of rich and glamorous people. This enchanting experience inspired his career as a forger of paintings and then as a successful art historian (sadly my own career as an art historian hasn't enabled me to live in fortified house near Lucca. Something must have gone wrong somewhere). And there was a nice little twist at the end which I enjoyed. To sum up: wonderful setting, some excellent writing, but not entirely my kind of novel.
So what did Moira make of it? I long to know and will add a link when her post is up.
Here it is! Fascinated to find that this time we were not quite in agreement: Clothesinbooks.blogspot.com.
These glorious photos came via Moira from PerryPhotography. One is of the countryside outside Lucca, and the one of the house and garden is reproduced by kind permission of the owners, K & T Wynn. My thanks to them and to PerryPhotography.