Do you enjoy crime fiction? If so, do you subscribe to the Crime Readers' Association? If not, I'm sure you'd find it worth your while – and it is free.
The CRA is the readers' arm of the Crime Writers' Association (of which, by the way, I am once again Membership Secretary). Subscribers receive a bi-monthly edition of an entertaining online magazine, Case Files, along with all kinds of interesting features and articles from CWA members. In addition, subscribers receive a  monthly newsletter containing updates of special events, crime reading (and writing) opportunities, book launches, author insider news, competitions and giveaways.
I am plugging this in a not entirely disinterested way as I am delighted to be Author of the Month on the CRA website and I have written a short piece in the December newletter about my new novel and its Antarctic setting. If you would like to take a look at the CRA and perhaps subscribe, go to: https://thecra.co.uk/about-the-cra/
The members of the CWA are a convivial lot, often to be found
propping up a bar somewhere, and none more so than the committee members, who had their Christmas lunch early in December. There was only one Santa hat, so of course it had to be worn by our highly esteemed chair, Martin Edwards. My neighbour's Rudolph burger (actually beef, I believe) came – most appropriately – with a dagger already plunged into its heart.
Writing a novel is of necessity a solitary occupation. It is important to get out of the house sometimes. So it was that last Friday I headed off to Edinburgh to the Crime Writers Association conference. I was born and grew up on the north-east coast and am always happy to find myself heading north – and what a fabulous city Edinburgh is. And what a literary one: Waverley is the only railway station in the world named after a novel and the Scott monument is the largest monument to an author in the world. It's the city too of Robert Louis Stevenson and Conan Doyle – and also of the notorious grave-robbers and murderers, Burke and Hare, and of Deacon Brodie, respectable cabinet-maker and town councillor by day, libertine and leader of a gang of burglars by night. He was hanged on a gibbet he had designed himself and may have been the inspiration for Stevenson's Jekyll and Hyde.
And talking of crime,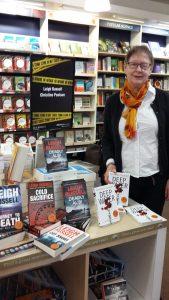 what a great bunch my fellow crime-writers are. Perhaps it is because we save our dark side for our writing, but in real life there is no friendly or more convivial group of people. And as always it was lovely to catch up with old friends and make some new ones, like Leigh Russell with whom I shared a table at an event in Blackwell's. There were fascinating talks by distinguished pathologists, a former head of CID, and a retired Deputy Chief Constable; there was a cracking after dinner speaker, the Rt Hon Leeona, Lady Dorrian, Lord Justice Clerk.
What a pity it is only once a  year. Roll on Shrewsbury next April!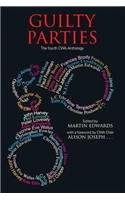 'There is no more sombre enemy of good art than the pram in the hall.' There is some truth in this famous statement by Cyril Connolly.
I guess that Connolly was thinking more of male writers and the necessity to support a family and the need to write for money. Still i
t is worth noting that many of our greatest women writers – Jane Austen, George Eliot, the Brontes – have been childless.
There is no doubt that when you have children, hugely rewarding though it is, time, energy and the mental space that writers need are in very short supply. On the other hand, being a parent does supply you with some great material. Here's an example: years ago I delivered my daughter to a children's party. The child in question had just joined my daughter's school so I barely knew her parents and they barely knew me. There was a great scrum of parents and kids when I arrived. I can't remember now if I left my mobile phone number, but I do remember that as I drove away I realised that the parents of the party girl didn't even know where I lived. What would they do if some reason I didn't return to collect my daughter?
I jotted it down as an idea for a story and when, last year, the theme of 'Guilty Parties' was announced for a CWA anthology, I thought of it right away. The anthology is out now and 'What's the Time, Mr Wolf' is in it. It's lovely to find myself there along with old friends, like Martin Edwards, Kate Ellis, Peter Lovesey and many others that I have met at conferences, and yes, parties (guilty or otherwise) over the years. The hardback is a bit pricey, but no doubt it will be out as a paperback and an ebook in due course, and you could always order it from the library. It's a great way to sample the work of writers you might not have read before.