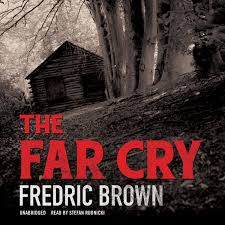 'I've read so many crime novels that I'm rarely surprised by plot twists or startling solutions. So I was pretty sure that I knew where things were heading when I recently read Fredric Brown's The Far Cry – but he totally pulled the wool over my eyes. What an ending! So, fellow fans of GA fiction, which are the novels that have left YOU open-mouthed? No spoilers, please . . .'
I posted this on the Facebook page of the Golden Age Detection group and got some very interesting responses – and a list of books to be added to the TBR pile.
The subject of shocking plot twists seemed worth exploring further here. I am not talking simply about failing to guess whodunit. I mean the kind of twist that takes your breath away, and yet in retrospect makes perfect sense. Recently with a couple of novels famed for their plot twist, I guessed correctly in the first chapter and that's always a disappointment. So it's not often that a writer pulls the rug from under my feet and I love it when they do.
Sarah Waters's extraordinary novel, Fingersmith, did that to me. Hats off to her. Lawrence Block did it too with Out on the Cutting Edge. In GA fiction the end of John Dickson Carr's The Burning Court left me open-mouthed.
Other suggestions from my Facebook friends included Ira Levin's A Kiss Before Dying, Thomas H Cook's The Instruments of Night and Red Leaves, Elizabeth Daly's The Book of the Dead and Robert Barnard's Death of an Old Goat.
Further contributions are very welcome.  Over to you!
PS The Golden Age Detection group is friendly and lively. If you are not already a member, do come and join us.
I have got one of those annoying colds that just goes on and on with days when I think I am getting better followed by relapses when I don't want to do anything but loll around and read something undemanding. So what did I read? This Xmas my brother gave me one of his own books that I have long coveted: the Black Box edition of Fredric Brown thrillers containing Night of the Jabberwock, The Screaming Mimi, Knock Three-One-Two, and The Fabulous Clipjoint. No new book could have pleased me more. I was thrilled when I unwrapped it, and promptly reread them all.
More sickbed reading included a writer new to me: Lissa Evans's Their Finest Hour and a Half, a novel set in WWII and organised around the making of a feature film about the evacuation from Dunkirk. I loved this – learned a lot about film-making, too. I especially enjoyed this: when Arthur proposes to thirty-six year old Edith on their first date, she immediately says yes, much to the surprise of both of them: her reply had 'been preceded on her part by a series of very rapid and rational thoughts – he has just proposed, he seems sincere, he is not hideous, he has a good job in civilian life, he owns a house, he is very likely the only person who will ever ask for my hand in marriage . . . oh, and won't it just knock Verna [her cousin] for six – and it had been the last and most most venial of these had triggered her answer.' After this I was longing to know how their marriage would turn out. A lovely novel: funny, touching, full of fascinating period detail: perfect reading when feeling under the weather. One tiny reservation: in 1940 would someone have talked about 'letting their charlady go?' Wouldn't they just give them the sack? It is so hard to get absolutely everything right. I enjoyed this hugely and thanks to Moira at ClothesinBooks.com for recommending it.
I'll end, dear friends and fellow bloggers, by wishing you a happy New Year with lots of rewarding reading.
Martin Edwards' blog with the wonderful title: 'Do You Write Under Your own Name?' is a favourite of mine and I often pick up tips for books I might enjoy, especially in his forgotten books section. Not long ago he wrote a review of a novel by Fredric Brown which made me think that I'd like to reread a novel I hugely enjoyed when I first read it, Brown's NIGHT OF THE JABBERWOCK. I took it away to read on holiday. I don't think I've read it since I started writing myself and this added a whole new dimension. The first time I just read on, heart in mouth, absolutely mesmerised, really unable to put it down. This time I marvelled at the plot, which dovetailed like a piece of finely made furniture, appreciated the economy of the style and admired the skill with which Brown enlists our sympathy hor his quizzical, down at heel and humane narrator. It's scary, suspenseful, and funny, too. I laughed out loud. It would have to figure on a list of my all-time favourite crime novels. Martin, if you read this, I want to know if you have read it. If not, you have a treat in store.
Another of Martin's recent commendations was THE BURNING COURT by John Dickson Carr. Carr specialised in locked room mysteries, and there are two in here. I partly guessed the solution to one of them, but I am not terribly attracted to the puzzle novel, and what for me really distinguishes Dickson Carr's novels is their creepiness. This one is truly sinister. I won't spoil the ending, suffice it to say that just when I thought I knew what was going on things took a turn that I really did not expect and I ended the novel feeling, well, gobsmacked, really.
A while ago I blogged about Anne Fadiman's little book, EX LIBRIS, and a kind reader let me know that she was giving a lecture in Sheffiel last night so I went along. She spoke about the difficult relationship between Coleridge and his son, Hartley, drawing on their correspondence. It was excellent, and when I spoke to her afterwards, she was charming. I'm going to hunt out some of the other things she has written.