Readers of this blog won't be surprised to learn that I went shopping on Monday intending to buy a cardigan and came back with two books (and no cardigan). Worse: one of them was full of suggestions for more books to buy and read. But I couldn't resist buying a copy of Barry Forshaw's splendid Brit Noir: The Pocket Essential Guide to the Crime Fiction, Film and TV of the British Isles, not least because one of my books is in it. It is organised by region and I was thrilled to find Invisible in the West Country section.
I'd have bought it anyway to join Barry's Euro Noir and Nordic Noir on my shelves. They are all great books for browsing and for planning future reading. There are dozens of books mentioned in Brit Noir that could go straight on my TBR pile. I can't think of anyone who knows more about contemporary crime fiction than  Barry and he also has an excellent web-site at crimetime.co.uk.
I am beginning to think that another moratorium might be in order in the autumn so that I can get through some of the books I've bought since the last moratorium ended.
The in
vitation to the launch of Invisible said 'There will be cake' and there was. Delicious cake and lots of it, made by my kind friends, Jo and Sarah. Here I am, wielding a large knife.
It was a beautiful summer's evening. There was plenty of wine – supplied by my hospitable husband. My dear friend, Sue, arranged the flowers (AND did the washing up).
It was lovely to see so many of my family and friends there. There was a lively buzz of conversation and I enjoyed it so much that I'll have to crack on with the next novel (pretty near completion) so that I can have another party.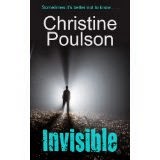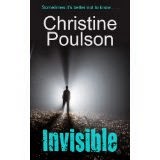 It's always a red letter today for a writer when a new novel comes out, so I am delighted that my new novel, Invisible, published by Accent Press, is now up on Amazon: http://amzn.to/1t1Kcsm. At £1.82 it is a snip. The paperback will be available shortly.
The roots of this novel are in a trip that my husband and I took to Sweden in 2001, so it's been on my mind a long time. It's a stand- alone suspense novel written from several viewpoints.
When the novel opens Lisa is in the perfect relationship. Once a month she escapes from caring alone for her son, who has cerebral palsy, and meets Jay, just for the weekend, free from all responsibilities. It's perfect – until the day when Jay doesn't show up, and everything she thought she knew about him turns out to be a lie.

For Jay it was perfect, too. Five years ago he fled witness protection after his wife and son were murdered and began a new life.
But he shouldn't have let himself fall in love with Lisa, because now the villains are onto him and he must disappear again.
Realising now how much she loves Jay, Lisa tries desperately to find him, but she is not the only one, and the more she goes on, the more dangerous it becomes…
There'll be a book launch. I'll keep you posted.