Last weekend North Lees Hall, near Hathersage in Derbyshire, was open to the public. The hall, a late Elizabethan tower house, is thought to be the inspiration for Thornfield Hall in Jane Eyre. Charlotte Brontë visited it several times when she was staying with her friend Ellen Nussey. It resembles the fictional Thornfield in having a battlemented façade, a view from the roof and a similar setting in the landscape. When Charlotte visited it there was an Apostle's Cabinet which she describes in Jane Eyre. There was actually an Eyre family who lived at North Lees at the time and a legend of a mad woman who died her in a fire. So the connection is pretty secure and of course I had to visit it.
North Lees is a grand house in miniature. It's very much smaller than Thornfield Hall could have been. You certainly couldn't conceal a mad woman here. But the atmosphere and the setting were just right.
A local amateur dramatics group, the Hathersage Players, will be performing an adaptation of Jane Eyre this summer and the cast  were there in character. So that is how I met Mr Rochester on the roof of North Lees Hall (glimpsed through the open door).
Downstairs I ran into Jane Eyre and I'm looking forward to seeing them both in the outdoor performance to be staged at North Lees Hall in July.
These splendid photos were taken by my husband.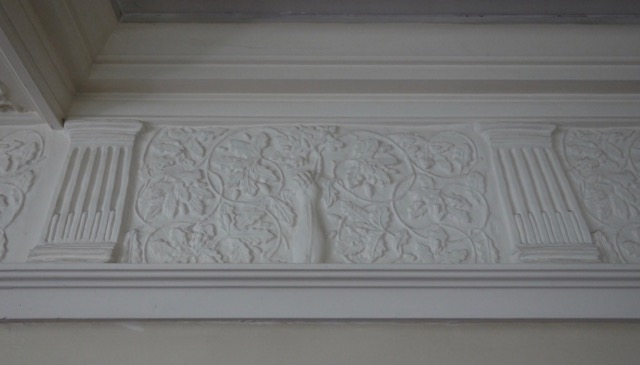 I don't want to read Catcher in the Rye again – or Salinger's short stories – though I was impressed by them when I was around twenty. Nor am I tempted to reread Wuthering Heights (though Jane Eyre is another matter). I won't be returning to The Hobbit or Lord of the Rings or Mervyn Peake's Gormenghast trilogy, all cult novels when I was a teenager (taking the Peake trilogy down from the shelf I see that they were given to me for my 21st birthday – and I haven't opened it for, ooh, I'd rather not say how many years). Are there novels that it is best to read when you're young as I did with all these? And conversely are there novels that one should keep for middle-age or old age?
The Great Gatsby strikes me as a young person's novel, yet I could happily reread that. And it's the same with To Kill a Mocking Bird. In fact I didn't read that until I was middle-aged and loved it, but I think the optimum age for reading it is probably mid teens. On the other hand Proust is surely a writer for later life. You need to have been through the mill a bit yourself really to appreciate Swann in Love.
There are some writers who have something new to offer as you return to them through life. Tolstoy is one. As a young woman I thrilled to Anna Karenina's tragic love story, but it wasn't until I reread it as a mother that I understood Anna's anguish at being parted from her son. Jane Austen I can always go back to, though it's more often Mansfield Park or Persuasion now, rather than Pride and Prejudice. Dickens was often pushed onto the young reader when I was young, but I think that was a mistake. You should be an adult to read him. Trollope with his generous sympathies and his understanding of human relationships is evergreen. And Middlemarch is the perfect novel for any age. We have chosen that for our book group's annual big read and I am looking forward to.
Are there books that you loved when you were young, but couldn't bear to reread? Is there anything that you are saving for old age?