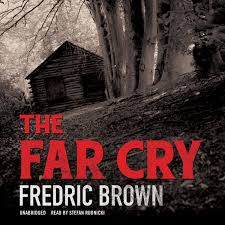 'I've read so many crime novels that I'm rarely surprised by plot twists or startling solutions. So I was pretty sure that I knew where things were heading when I recently read Fredric Brown's The Far Cry – but he totally pulled the wool over my eyes. What an ending! So, fellow fans of GA fiction, which are the novels that have left YOU open-mouthed? No spoilers, please . . .'
I posted this on the Facebook page of the Golden Age Detection group and got some very interesting responses – and a list of books to be added to the TBR pile.
The subject of shocking plot twists seemed worth exploring further here. I am not talking simply about failing to guess whodunit. I mean the kind of twist that takes your breath away, and yet in retrospect makes perfect sense. Recently with a couple of novels famed for their plot twist, I guessed correctly in the first chapter and that's always a disappointment. So it's not often that a writer pulls the rug from under my feet and I love it when they do.
Sarah Waters's extraordinary novel, Fingersmith, did that to me. Hats off to her. Lawrence Block did it too with Out on the Cutting Edge. In GA fiction the end of John Dickson Carr's The Burning Court left me open-mouthed.
Other suggestions from my Facebook friends included Ira Levin's A Kiss Before Dying, Thomas H Cook's The Instruments of Night and Red Leaves, Elizabeth Daly's The Book of the Dead and Robert Barnard's Death of an Old Goat.
Further contributions are very welcome.  Over to you!
PS The Golden Age Detection group is friendly and lively. If you are not already a member, do come and join us.
A couple of weeks ago, my friend, Daniella, tagged me on Facebook. "List 10 books that have stayed with you in some way. Don't take more than a few minutes, and don't think too hard. It is not about the 'right' book or great work of literature, just ones that have affected you in some way. Does not have to be in order.'
I should then have nominated 10 friends to be tagged in turn. I am hopeless at this. By the time I have got round to it, all my friends have already been tagged by someone and there is no-one left to choose.  But I did write my list – pretty much off the top of my head and here it is:
Tolstoy, Anna Karenina
Vasily Grossman, Life and Fate
L. M. Montgomery, Anne of Green Gables
Sarah Waters, Fingersmith
Lawrence Block, Out on the Cutting Edge
Taichi Yamada, Strangers
Susan Coolidge, What Katy Did at School
Margaret Wise Brown, Goodnight Moon
Susan Varley, Badger's Parting Gifts
Joyce Dennys, Henrietta's War
Note that I am not saying these are the best or even my favourite books, just a few that have stayed with me. This list is all fiction. Maybe I'll do non-fiction another time.
I like a booklist. There's one on a recent post here: http://www.suehepworth.com/ and Moira at http://www.clothesinbooks.blogspot.uk has some good lists.
There couldn't be a much greater contrast between two of the books I read this week: THREE CHINESE POETS: TRANSLATIONS OF POEMS BY WANG WEI, LAI BI AND DU FU by Vikram Seth and WINTER PREY by John Sandford. Seth's three poets were writing at the time of the Tang Dynasty in the 8th century. Autumn leaves, the breeze in the pines, moonlight and mountains, peach blossom and bamboo, wood smoke and the sound of running water: these are the images that stay with me. The poems are full of a sense of transience. I read this, because I'm learning Mandarin and, being someone who learns best through sight rather than sound, I want to start getting to grips with Chinese literature. How good Seth's translations are, I can't yet judge. And it may be a very long time before I can!
WINTER PREY I was actually re-reading. I first read this maybe thirteen years ago and it had stayed in my mind – particularly one striking passage. I hadn't been able to put the book down and I wanted to go back and see how he had done it. And yes, it was pretty much as compelling as I'd remembered. He sets the scene – deep winter in Minnesota – brilliantly. And the part I remembered, where the main character, Davenport, is protecting a woman doctor who is almost lured to her death, was still gripping. It is a first-rate crime novel, and yet . . . I also remembered why I only read one or two more in the Prey series and why I have stopped reading novels by one or two other writers whom I used to enjoy. There is an the element of sadistic violence that I find repellent. Some writers seem to feel that they must up the ante by increasing the violence from novel to novel. I think it is a mistake on every level. Something like this has happened to Lawrence Block's Matt Scudder series and I have to confess that because they are otherwise so wonderful, these I haven't stopped reading. But I prefer the earlier ones in the series and I really wish he'd tone it down a bit.