In Muriel Spark's splendid novel, A Far Cry from Kensington, the narrator, Mrs Hawkins, finds herself at a dinner-party sitting next to a retired Brigadier General. She gives him advice on how to get down to writing his memoirs. Get a cat. She explains: 'Alone with the cat in the room where you work . . . the cat will invariably get on your desk and settle placidly under the desk lamp . . . and the tranquillity of the cat will gradually come to affect you sitting there at your desk, so that all the excitable qualities that impede your concentration compose themselves and give your mind the  self-command it has lost.'
The advice bears fruit. Three years later the Brigadier sends her a copy of his war memoirs. 'On the cover was a picture of the Brigadier at his desk with a large alley-cat sitting inscrutably beside the lamp. He had inscribed it "To Mrs Hawkins, without whose friendly advice these memoirs would never have been written  – and thanks for introducing me to Grumpy." The book itself was exceedingly dull. But I had advised him only that the cat helps concentration, not that the cat writes the book for you.'
Here is my own writer's companion, sitting among the reference works.
Time for another list! We had such fun last time that Moira at Clothesinbooks.com and I have got together again, this time to share our ten favourite books set on the Home Front. Mine are all set in WWII. Here goes . . .
First up is Joyce Dennys's Henrietta's War (1983 – but written during the war). This is also on my list of books that make me laugh. I love it – and the second one, Henrietta Sees It Through, is just as good. Dennys was a GP's wife in Budleigh Salterton, and these are purportedly letters written to her cousin. They are fiction, but I am sure they drew heavily on her own experience. They are charming, witty, and illustrated with her own delightful drawings – and along the way you get a very good idea of what the home front was like on the Devon coast.
Penelope Fitzgerald's Human Voices (1980). Set in the BBC where Fitzgerald worked herself during the war. Funny, touching, perfectly observed: vintage Fitzgerald. I must reread it – again.
Muriel Spark, The Girls of Slender Means (1963). Very short, a novella really, and not a word wasted. It's 1945 and the girls of slender means live in a London hostel, the May of Teck, with an unexploded bomb in the garden. What happens offers them a glimpse into the heart of darkness that will influence the course of their future lives. I'd love you to review this, Moira. Clothes are very important here.
Elizabeth Bowen's novel The Heat of the Day is her best known work set in WWII, but I would go for The Collected Stories (1980). My copy is falling apart. The section, 'The War Years' contains some wonderful stories, including 'Pink May,' 'The Demon Lover,' and 'The Happy Autumn Fields.' No-one is better at describing the sheer strangeness and dislocation of war-time London.
Anthony Powell, The Soldier's Art (1966), the eighth volume in A Dance to the Music of Time. Nick Jenkins joins up, but is too old to see active service, so it is all set in the UK. I have included it really for the part set in the Blitz, one of the saddest and most memorable sections in the whole series.
Lissa Evans, Their Finest Hour and a Half (2010), set in a documentary film unit just after Dunkirk. I've already blogged about this lovely novel. http://www.christinepoulson.co.uk/category/their-finest-hour-and-a-half/.
And now some crime. Laura Wilson's An Empty Death (2009) is set in London in the Blitz and features DI Ted Stratton. The period detail is spot on. A good, gripping, meaty read. Her earlier novel, Stratton's War, is also excellent.
Margery Allingham, Coroner's Pidgin (1945). Albert Campion, after a secret mission abroad, stops off in his London flat and immediately gets embroiled in a murder investigation. His efforts to get home to his wife, Amanda, are constantly thwarted and when he does, well, the novel has one of  my favourite endings.
Rennie Airth's The Dead of Winter (2009), the third and last of his novels featuring (by now former police inspector) John Madden. A Polish land girl is murdered during the blackout and Madden gets involved because she was working on his farm. I don't think Airth is as well known as he ought to be. He is a terrific writer.
And finally, a true classic: Christiana Brand's Green for Danger (1945). In August 1944, during the V-1 Doodlebug offensive on London, a patient dies on the operating table after being injured by a flying bomb. A nurse is suspicious, but before she can say why, she dies too. Enter Inspector Cockrill. Pure Golden Age pleasure.
That's it. I can't wait to see what Moira's chosen. I'll add a link when her post is up.
Here it is:  Clothesinbooks.com/Thursday List- Books About the WW2 Homefront. Fascinating . . .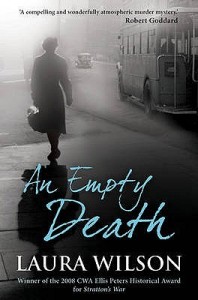 A few weeks ago in my post 'Nothing New under the Sun' I wrote about diets in fiction, and the other day it occurred to me that I had missed out a novel I much admire, Muriel Spark's A FAR CRY FROM KENSINGTON. I have it next to me as I write and it is the most beautiful hardback copy, published by Virago in 2008, twenty years after it first came out, with a cover design,'Calyx,' by Lucienne Day, originally a textile designed for Heal's and launched at the Festival of Britain in 1951. That is fitting, as the novel is set in 1954. The world of rationing and boarding-houses and poorly paid jobs in publishing is brilliantly evoked. The character of the first person narrator gives the novel a warmth which hasn't tended to be there in the other novels by Spark that I have read. Mrs Hawkins, always addressed that way though she is only twenty-eight, is a war-widow and – not to put too fine a point on – fat. There is a connection between these two states. And it is after she begins to fall in love with William, the upstairs lodger, about a third of the way through the novel that she decides to go on a diet. Earlier she offers this piece of advice, 'As an aside, I can tell you that if there is nothing wrong with you except fat it is easy to get thin. You eat and drink the same as always, only half. If you are handed a plate of food, leave half: if you have to help yourself, take half. After a while, if you are a perfectionist, you can consume half of that again. On the question of will-power, if that is a factor, you should think of will-power as something that never exists in the present tense, only in the future or the past. At one moment you have decided to do or refrain from an action and the next moment you have already done or refrained . . .' She adds 'I offer this advice without fee; it is included in the price of this book.' And I should say it is probably worth the price of the book. A FAR CRY FROM KENSINGTON is only incidentally a love-story. Naturally, as it is a novel by Muriel Spark, something much darker is going on, nothing less than an examination of the nature of evil. In a brilliant piece of plotting, when Mrs Hawkins begins her diet and rapidly loses weight, it has a very unexpected bearing on the main plot and, well, I won't say more in case you haven't read it. It is a brilliant novel and I wish I could write something half as good.