Writing a novel involves spending an awful lot of time on one's own. It can be difficult to meet other writers and that is where the Crime Writers' Association is such a godsend. I joined in 2002 when my first novel came out and through the CWA I have made some very good friends. They have helped  to keep me going through the inevitable ups and down of a writer's life. And there's the opportunity just to hang out with other writers at conferences – I have been to the Lake District, Glasgow, Edinburgh, Hereford, Shrewsbury, Lincoln. We are a famously convivial lot. But the stellar event in the UK crime-writers' firmament is undoubtedly is the Daggers Dinner, held this year on 24th October at the Leonardo City Hotel in London. The photo shows me and my friends, Sarah Ward (left) and Kate Ellis (right) quaffing prosecco. Kate won the Dagger in the Library that evening. The winner of the Gold Dagger for best crime novel of the year was M C Craven for The Puppet Show. 
The following week-end I headed up to Newcastle to hear my short story, 'Safe as Houses,' read brilliantly by
Janine Birkett as one of three stories on the programme of Haunted: Ghost Story Readings for Halloween at the Lit and Phil (a Newcastle Institution – in every way).  The other too were a Victorian shocker, 'The Phantom Coach' by Amelia B Edwards, and the disturbing 'Three Miles Up' by Elizabeth Jane Howard. It was all great fun. The other reader and the producer, Stephen Tomlin of Demiparadise Productions, is shown here with me and Janine.
So now it's back to earth . . . But there's the CWA Christmas Party and a spring conference in Torquay to look forward to.
If you are a crime writer, I hope you'll consider joining us. If not, you could join our sister group, the Crime Readers' Association, for free and receive news and reviews every month: http://thecra.co.uk.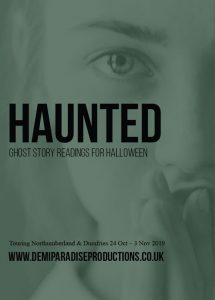 Some years ago I was invited to submit a horror story for an anthology. The brief was that it must include some aspect of contemporary technology. I said doubtfully to my husband, 'I'm not sure this is my thing.' His reply was bracing: 'You're a writer, aren't you? So write something!'  And I did. The story, 'Safe as Houses,' was duly published in Phobic: Modern Horror Stories, by Comma Press. It begins with a woman hearing a baby crying over a baby monitor. But there's no baby in the house. . .  I scared myself writing it! That's part of the fun.
A few months ago I was contacted by an actor, Stephen Tomlin, to ask if  'Safe as Houses' could be one of three ghost stories to be included in a series of Halloween readings that he was planning for the north of England. I was delighted to agree and I'll be attending one of the performances at that Newcastle institution, the Lit and Phil on 1 November. I am looking forward to hearing something that I have written performed by a professional actor – a first for me.
For details of the other venues and how to book tickets, go to www.demiparadiseproductions.co.uk