I've very much enjoyed Virginia Nicholson's Singled Out: How Two Million Women Survived Without Men after the First World War. It is the kind of gossipy, anecdotal history that is very easy to read.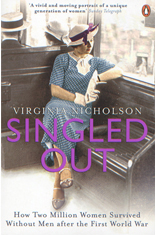 Nicholson has done an enormous amount of research. The pages throng with remarkable women who managed to find meaning in life without a husband or children: women like Gertrude Caton-Thompson who trained as an archaeologist in her thirties, travelled extensively on digs, and ended up teaching at Newnham College: Mary Grieve who was editor of Woman magazine for 30 years; many writers, including Elizabeth Jenkins and Elizabeth Goudge. Women lawyers, teachers, stockbrokers, and engineers all seized their chance. But if one thing comes over strongly, it is that while middle class and upper class women could often find worthwhile and financially rewarding employment, for working class women it was the tough life of a shop girl or factory worker. For them, marriage must surely have been preferable, even if as Nicholson points out, it was rarely a bed of roses.
For many women in all classes the absence of children was a sadness. Many played roles as aunts and godmothers, but few in those day dared have an illegitimate child to raise alone. It's a pity that so few felt able to follow in the footsteps of Rosamund Essex, editor of the Church Times, who as a single woman adopted a little boy, a touching success story
Nicholson writes in the introduction that at thirty she was still unmarried and expected to remain so, but two years later found herself planning her wedding. For me it all came even later and I thought as I read this book about what it must have been like to have no choice about marriage or children because there just weren't enough men to go round. I wonder too how many of the (mostly) single women teachers at my girls' grammar school in the sixties had lost the men they might have married in WWII – or whether they simply preferred a career – or other women (not a thought that occurred to me in those days!)
I've been reading with great pleasure Virginia Nicholson's excellent, Singled Out: How Two Million Women Survived Without Men after the First World War. In a chapter on the stereotype of the spinster I was interested to come across this as an example: 'Agatha Christie's knitting detective Miss Marple incarnated the spinster sleuth.' Last week I was reading The Thirteen Problems, stories featuring Miss Marple, and it seemed to me that here Virginia Nicholson rather misses the point. Miss Marple only appears to be a stereotypical English spinster, unworldly and ineffectual, forever fussing with her knitting. In fact she is anything but.
In The Thirteen Problems she is pitted against a solicitor, a clergyman and Sir Henry Clithering, retired Scotland Yard commissioner and beats them all hands down and this in the 1920s and 1930s. Agatha Christie has plenty of fun here – there is a lot of quiet humour generally in her books – at the expense of everyone who makes the mistake of underrating Miss Marple. She may have spent a sheltered life in St Mary's Mead, but she knows all about the seamy side of life: housemaids 'in trouble', wives murdered by husbands, lives ruined by ill-founded gossip.  Miss Marple is in fact a pretty tough cookie and has no compunction about seeing murderers sent to the gallows. She is such a familiar figure that one is inclined to forget what an original creation she was.