Writing a novel is of necessity a solitary occupation. It is important to get out of the house sometimes. So it was that last Friday I headed off to Edinburgh to the Crime Writers Association conference. I was born and grew up on the north-east coast and am always happy to find myself heading north – and what a fabulous city Edinburgh is. And what a literary one: Waverley is the only railway station in the world named after a novel and the Scott monument is the largest monument to an author in the world. It's the city too of Robert Louis Stevenson and Conan Doyle – and also of the notorious grave-robbers and murderers, Burke and Hare, and of Deacon Brodie, respectable cabinet-maker and town councillor by day, libertine and leader of a gang of burglars by night. He was hanged on a gibbet he had designed himself and may have been the inspiration for Stevenson's Jekyll and Hyde.
And talking of crime,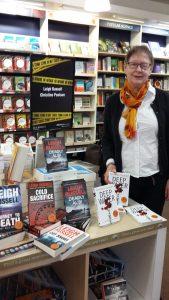 what a great bunch my fellow crime-writers are. Perhaps it is because we save our dark side for our writing, but in real life there is no friendly or more convivial group of people. And as always it was lovely to catch up with old friends and make some new ones, like Leigh Russell with whom I shared a table at an event in Blackwell's. There were fascinating talks by distinguished pathologists, a former head of CID, and a retired Deputy Chief Constable; there was a cracking after dinner speaker, the Rt Hon Leeona, Lady Dorrian, Lord Justice Clerk.
What a pity it is only once a  year. Roll on Shrewsbury next April!
The time: a late June afternoon in the nineteen seventies. The place: Sheffield railway station. I was changing trains there on my way home to the North-east from Leicester university. I was nineteen. I didn't have much luggage as my trunk had gone on by road (does anyone take a trunk to university these days?). I was sitting in the sun, reading Walter Scott's WAVERLEY, when a woman sat down next to me. I remember someone a lot older than me, attractive, well-dressed. She asked me if I was reading Walter Scott for pleasure and I explained that I was doing an English degree and it was on next year's reading list. It was just a fleeting encounter, but there was something about it – the sunny day, the charming woman – that's anchored it in my memory. Now I live in the Peak District and I often change trains at Sheffield. When it's sunny, I sometimes think of that day, and feel again the luxurious pleasure of being young with the whole summer holiday ahead.