An Air That Kills – Publication Blog Tour

Read the full reviews:
Read more about An Air That Kills.
---
Ellery Queen's Mystery Magazine's Fiction Podcast
When Christine was in Toronto for the Bouchercon World Mystery Convention, in October, she  recorded her short-story "Roller-Coaster Ride," from the December 2014 EQMM, for their November 2017 podcast. Listen here or below.
---
Christine's Next Novel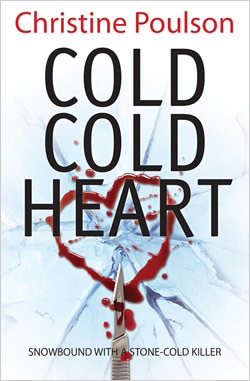 Christine's new novel, Cold, Cold Heart will be published by Lion Hudson in the UK on 17th November 2017 and in the USA in January 2018.
Read more about Cold, Cold Heart.
---
Interview
Christine Poulson talks with Carol Westron on the Lizzie Hayes Promoting Crime Fiction blog. They talk about the differences between writing fiction and non-fiction books, series versus stand-alone novels, issue-based novels and why Christine is drawn to writing about the parent-child relationship. Read the full interview here.
---
Christine's Latest Novel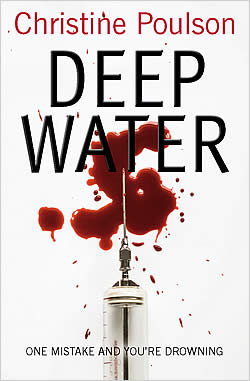 Christine's new novel, Deep Water was published by Lion Fiction on 21st October 2016 in the UK and on January 2017 in the USA.
---
Short Story News
'Faceless Killer' appears in the March/April 2018 issue of Ellery Queen Mystery Magazine.
'Faceless Killer' has been short-listed for the Margery Allingham Prize.
'Secondhand Heart' appears in the January issue of Ellery Queen Mystery Magazine.
'Ashes and Pearls' appears in the May issue of The People's Friend.
---
Previous Events
HAUNTED: GHOST STORY READINGS FOR HALLOWEEN
Touring Northumberland & Dumfries 24 October  to 3 November 2019
Christine's short story, 'Safe as Houses' features in this selection of ghost stories being read by the professional actor/readers at demi-paradise for a halloween tour.  See dates and venues below:
Find out more at: www.demiparadiseproductions.co.uk or download the HAUNTED FLYER.
The Golden Age Detective Fiction Conference at the British Library: Bodies from the Library
16 June 2018: 10am
'Unearthing "Bodies from the Library": Golden Age short-story anthologies
Christine Poulson moderates a discussion with Martin Edwards and Tony Medawar.
Find out more and book tickets
On Thursday afternoon at 17.00 Christine will be taking part in the panel:
Authors Remembered
 Chris Curran (on Winston Graham)
 John Lawton (on Adam Hall)
 Christine Poulson (on Hillary Waugh)
 Nick Triplow (on Ted Lewis)
 Sarah Ward (on Pamela Branch)
Participating moderator: Martin Edwards (on E.C.R. Lorca)
On Saturday morning at 9.00 Christine will be taking part in the panel:
W Is For Woman – Something To Prove?
Jane Casey
Niki Mackay
Christine Poulson
Zoë Sharp
Participating Moderator: Sharan Newman
Malice Domestic
On 28th April Christine took part in a panel at Malice Domestic, an annual fan convention, held in Bethesda, Washington DC, that celebrates the traditional mystery, books best typified by the works of Agatha Christie.
Mysteries in Unique Settings
 (Moderator) C. Michele Dorsey
 Junie Coffey
 Matthew Iden
 Dane McCaslin
 Clare O'Donohue
 Christine Poulson
---
Essex Book Festival 2018: 1-31 March
Criminal Minds, Southend-on-Sea
On Sunday 11 March between 1.00 and 2.30pm Christine will be taking part in the CWA panel,  Criminal Minds, with J M Hewitt and Paul Gitsham. The session will be chaired by Martin Edwards.
Hear stories of sleuthing, murder and mayhem in this fascinating discussion between members of the CWA. With over 700 members, the Crime Writers' Association is well known for its prestigious Daggers, awarded every year for the best in crime writing, and provides an unrivalled platform for authors and their work.
---
Book Launch for Cold, Cold Heart
Waterstones, Orchard Square, Sheffield
Tuesday 23rd January 2018 19:00 – 20:30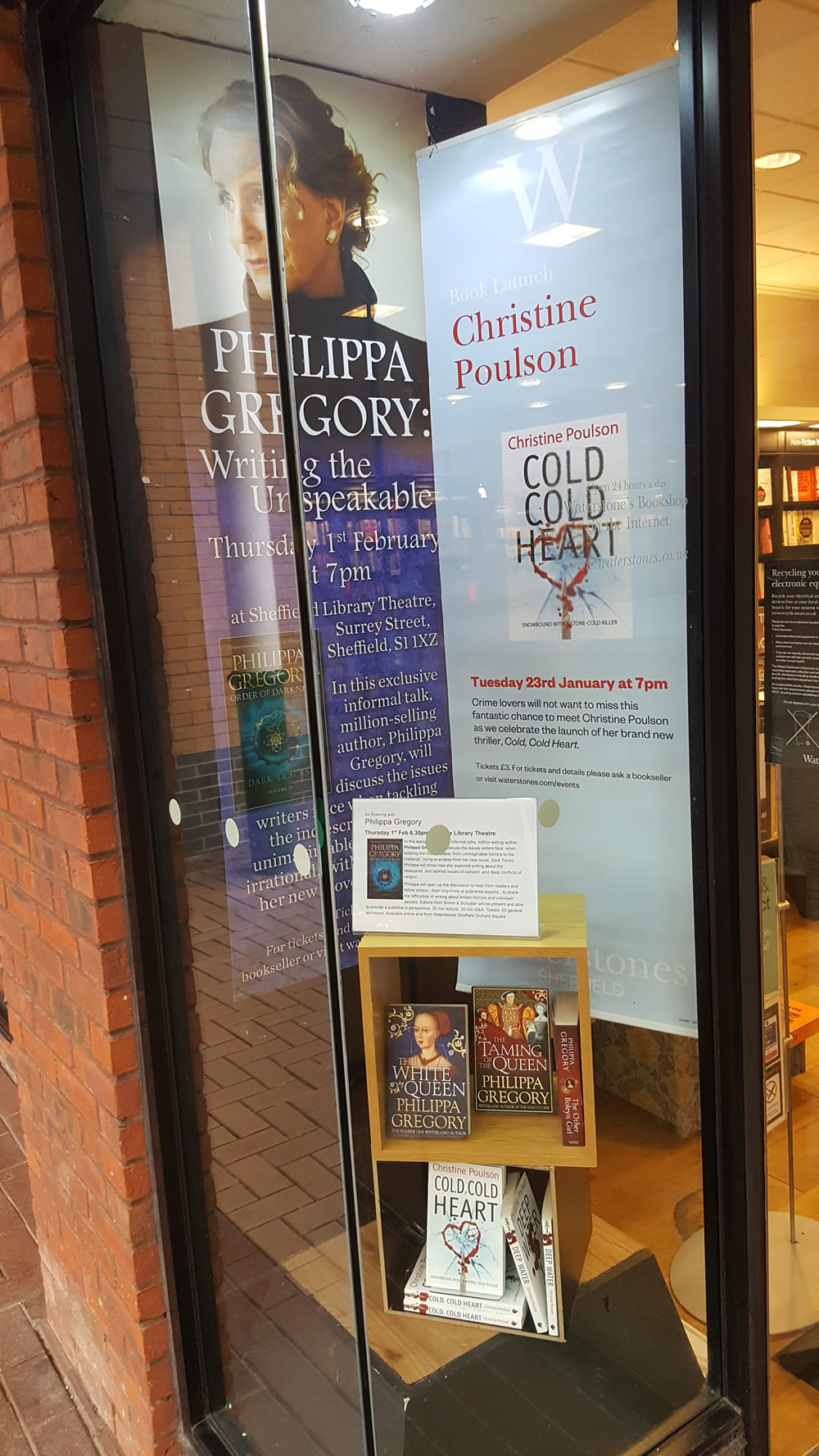 The launch of Christine's new novel, Cold, Cold Heart, takes place at the Orchard Square branch of Waterstones in Sheffield on on Tuesday 23rd from 7.00-8.30 pm, which is also the date of publication in the US. There will be wine and, as the novel is set in Antarctica, there will be some Antarctic-themed entertainment. All are welcome.
For tickets visit the Waterstone website
Read more about Cold, Cold Heart and reviews
Photo shows the window display for Cold, Cold Heart at Waterstones in Sheffield. Click on the image enlarge.
---
On Sunday 15 October at 9.30am Christine will be taking part in the panel  Medical Mysteries: Lives are at stake in these stories in more ways but than one
Colin Cotterill,
Edith Maxwell
Maddie Day
Christine Poulson
 Alec Peche
 Melissa Yi
Wendy Walker (moderator).
---
On Thursday afternoon at 15.50 Christine will be taking part in the panel: Headspace: What's it Like Being in your Characters' Heads?
Andrew Cartmel
Michelle Davies
Luke McCallin
Christine Poulson
Craig Robertson (moderator)
On the Sunday morning  Christine will be taking part in the panel: Short and Sweet: Crime Fiction in Small Packages
John Harvey (moderator)
Roberts Olen Butler
Martin Edwards
Andrew Taylor
Heffers, Cambridge
Thursday, July 17th at 18:30
Book a convivial evening to die for by joining us for Pimms, strawberries and poisonous quizzes. Make murder your business in the company of crime authors: Stephen Booth, John Harvey, Jim Kelly, Mandy Morton, Peter Murphy, Christine Poulson, Kate Rhodes, Imogen Robertson, Nicola Upson and others. Crime Quiz, Crime authors, Crime crackers, Crime Time!
Tickets from: https://summer-crime-party.eventbrite.co.uk
Crimefest: 15-18 May 2014, Bristol
Christine moderated the panel: The Contemporary Cosy: Is There Still Life In The Golden Age?
Christopher Fowler
Helen Smith
Martin Walker
Jill Paton Walsh
Christine took part in the panel:  Dennis Wheatley & Other Forgotten Authors
Stephen Booth (Mavis Doriel Hay & John Buxton Hilton)
Jessica Mann (Katherine Farrer & Dilwyn Rees)
Christine Poulson (Harry Kemelman & Emma Lathen)
Martin Walker (Bruce Graeme & Geoffrey Household)
Participating moderator: Martin Edwards (Dennis Wheatley & R.C. Woodthorpe)