Christine's New Novel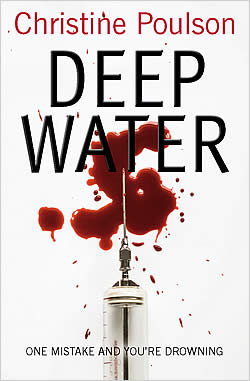 Christine's new novel, Deep Water was published by Lion Fiction on 21st October 2016 in the UK and will be published in January 2017 in the USA.
Short Story News
'Faceless Killer' has been short-listed for the Margery Allingham Prize.
'Secondhand Heart' appears in the January issue of Ellery Queen Mystery Magazine.
'Ashes and Pearls' appears in the May issue of The People's Friend.
On Thursday afternoon at 15.50 Christine will be taking part in the panel: Headspace: What's it Like Being in your Characters' Heads?
Andrew Cartmel
Michelle Davies
Luke McCallin
Christine Poulson
Craig Robertson (moderator)
Previous Events
On the Sunday morning  Christine will be taking part in the panel: Short and Sweet: Crime Fiction in Small Packages
John Harvey (moderator)
Roberts Olen Butler
Martin Edwards
Andrew Taylor
Heffers, Cambridge
Thursday, July 17th at 18:30
Book a convivial evening to die for by joining us for Pimms, strawberries and poisonous quizzes. Make murder your business in the company of crime authors: Stephen Booth, John Harvey, Jim Kelly, Mandy Morton, Peter Murphy, Christine Poulson, Kate Rhodes, Imogen Robertson, Nicola Upson and others. Crime Quiz, Crime authors, Crime crackers, Crime Time!
Tickets from: https://summer-crime-party.eventbrite.co.uk
Crimefest: 15-18 May 2014, Bristol
Christine moderated the panel: The Contemporary Cosy: Is There Still Life In The Golden Age?
Christopher Fowler
Helen Smith
Martin Walker
Jill Paton Walsh
Christine took part in the panel:  Dennis Wheatley & Other Forgotten Authors
Stephen Booth (Mavis Doriel Hay & John Buxton Hilton)
Jessica Mann (Katherine Farrer & Dilwyn Rees)
Christine Poulson (Harry Kemelman & Emma Lathen)
Martin Walker (Bruce Graeme & Geoffrey Household)
Participating moderator: Martin Edwards (Dennis Wheatley & R.C. Woodthorpe)