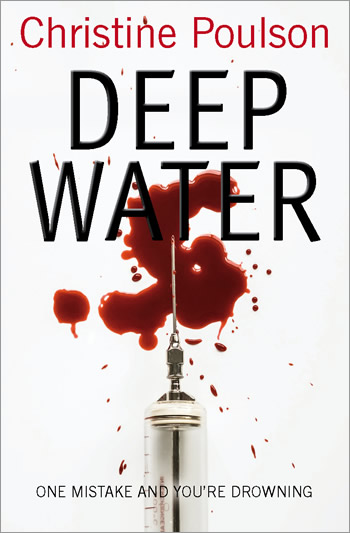 A cure for obesity, worth billions.
A death in a clinical trial.
When patent lawyer Daniel Marchmont agrees to act for Calliope Biotech, he doesn't know what he's getting into. The first lawyer on the case is dead, and a vital lab book is missing.Daniel and his wife Rachel are hoping biotechnology will also provide a cure for their daughter Chloe, who suffers from a devastating genetic disorder. Then the unimaginable happens, and they face a moral dilemma that threatens everything.
Meanwhile young researcher Katie Flanagan suspects something is very wrong in the lab. But knowledge is dangerous when someone is playing a perilous game . . .
Deep Water is available in Paperback from
Lion Fiction | Book Depository | Amazon | Hive | Waterstones
And in eBook from Kindle | Kobo
Read an interview with Christine about writing Deep Water on Sue Hepworth's blog: It's like all her books – intelligent, atmospheric and full of suspense. I know, because I've read it. Today, I'm honoured to have her as a guest on my blog, answering my questions.
Read an interview with Christine about writing and Deep Water on Clothes in Books.
Reviews for Deep Water
'An intelligent, thought-provoking read, with engaging and believable characters. It gripped me
from the start, and didn't let go.'
SARAH RAYNE, author of What Lies Beneath
'Deep Water is an intriguing and original thriller, with the serious issue of medical ethics at its core.
Christine Poulson describes her fenland setting with palpable authenticity in this pacy tale.'
KATE RHODES, author of the Alice Quentin series
'a fascinating suspense story . . . intricately plotted, I was gripped from the first page and heartily recommend this book as a 'not to be missed'.'
MYSTERY PEOPLE
'I always love the sense of place that Christine Poulson evokes . . . the Cambridgeshire Fens, Ely Cathedral and especially the lonely stretch of water where the barge is moored . . . The moral and ethical dilemmas in the story are incredibly knotty and all the characters have to grapple with the human cost of their actions. I always read Christine's books in a great rush and this was no exception.'
I PREFER READING BLOG | Read full review
'Christine Poulson's earlier novel, Invisible, combined effortless page-turning with subtle characterisation, and her new book is a worthy successor. As well as maintaining the tension throughout the 200-odd pages here, her writing is both sharp and elegant, more so than most current entries in the crime field. Deep Water is a novel that certainly deserves to do well.'
BARRY FORSHAW, www.crimetime.co.uk | Read full review