Author of the Cassandra James series and of standalone suspense novels.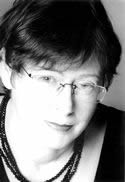 About Christine Poulson
I was a respectable academic, lecturing in art history at a Cambridge college before I turned to crime. My first three novels featured literary historian and accidental sleuth, Cassandra James, and my most recent is Invisible, a standalone suspense novel.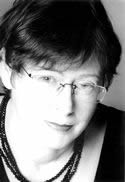 News and Events
I am happy to take part in events in libraries, bookshops, at literary festivals, crime fiction conventions and – almost anywhere really.
A Reading Life
Crime writer Christine Poulson's blog on reading, writing, and all things literary
Today I am delighted to be a guest on the splendid blog, http://Typem4murder.blogspot.co.uk. I'm written a post called The Long and the Short of It about the perfect length for a crime novel. I hope you'll visit and explore some of the other offerings too.
'Invisible's got an excellent, tense plot, shifting between the two main characters, with a good number of surprises along the way. Poulson always has great, strong women characters, with real lives and feelings . . .  I liked the fact that the depictions of violence and injury were realistic without being over-detailed or gloating . . . It was a pleasure to find a book that did the excitement, the jeopardy and the thrills without putting off this reader . . .  a very good read for anyone.'
- CLOTHES IN BOOKS
'This is splendidly written fare from the reliable Poulson, written with keen psychological insight.' [Invisible]
- CRIMETIME
'Invisible is a great thriller. I can't say too much more about the plot because the twists and turns are the whole point of reading a book that wrong foots the reader at every turn . . . Christine Poulson kept me reading by giving out just enough information to intrigue and puzzle so that I had to read just one more chapter. That's why, in the end, I just dropped everything else and read the last half of Invisible in one sitting.'
- I PREFER READING BLOG