Writing a novel is of necessity a solitary occupation. It is important to get out of the house sometimes. So it was that last Friday I headed off to Edinburgh to the Crime Writers Association conference. I was born and grew up on the north-east coast and am always happy to find myself heading north – and what a fabulous city Edinburgh is. And what a literary one: Waverley is the only railway station in the world named after a novel and the Scott monument is the largest monument to an author in the world. It's the city too of Robert Louis Stevenson and Conan Doyle – and also of the notorious grave-robbers and murderers, Burke and Hare, and of Deacon Brodie, respectable cabinet-maker and town councillor by day, libertine and leader of a gang of burglars by night. He was hanged on a gibbet he had designed himself and may have been the inspiration for Stevenson's Jekyll and Hyde.
And talking of crime,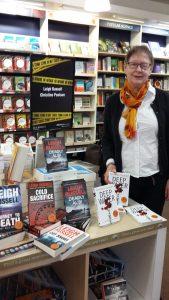 what a great bunch my fellow crime-writers are. Perhaps it is because we save our dark side for our writing, but in real life there is no friendly or more convivial group of people. And as always it was lovely to catch up with old friends and make some new ones, like Leigh Russell with whom I shared a table at an event in Blackwell's. There were fascinating talks by distinguished pathologists, a former head of CID, and a retired Deputy Chief Constable; there was a cracking after dinner speaker, the Rt Hon Leeona, Lady Dorrian, Lord Justice Clerk.
What a pity it is only once a  year. Roll on Shrewsbury next April!
It's a pleasure to welcome Leigh to my blog today. I thoroughly enjoyed her new novel, Blood Axe, and found myself slowing down so that I didn't get to the end – and the solution – too quickly. We know from the beginning that the killer has adopted the persona of a Viking warrior intent on pillage and murder. Russell adroitly shifts suspicion from one person to another and I didn't guess the outcome. DI Ian Peterson is a sympathetic protagonist and York is a suitably atmospheric setting for the sinister events of the novel. All in all, a rattling good read. I began by asking Leigh:
After such a successful series featuring Geraldine Steel, what made you decide to go in a new direction with the Ian Peterson series set in York?
It was the success of Geraldine Steel that encouraged me to write a spin off series for her sergeant, Ian Peterson. He had become a popular character in his own right, and my publisher was interested in my writing a second series. I spent some time deciding where to set his series. York is a really interesting and inspiring place, and setting Ian Peterson's investigations there gives me an excuse to keep returning to the city. Also, Ian Peterson wanted to live a long way from his in-laws in Kent.
How do you manage to keep both series going? I'm envious! What's your writing routine?
Since giving up my day job to write full-time, I seem to be busier than ever before. I am often asked about my writing routine but, to be honest, 'routine' is not a word that springs to mind when thinking about my writing process. With all the editing, meetings, library visits, literary festivals and general promotion that goes on, I rarely have a day completely free for writing. Since moving over to working exclusively on my ipad, it has become a little easier, as I can write anywhere – on planes, trains, on the beach, adding a few pages whenever I have time. It would be disingenuous to claim that it's not really hard work, but I enjoy every minute of it!
A favourite bookshop?
This is a difficult question, because any bookshop is fine with me! There is nowhere I would prefer to be. That said, I'm also a great fan of libraries, and I think online suppliers provide a useful service to readers who can't get out easily, so I have no problem with sites like Amazon. I think what matters is that people – especially youngsters – are encouraged to read as much as possible.
What single thing would make your writing life easier?
More hours in the day would be a great help. Failing that, I would like to be able to manage on four hours sleep a night. As it is, I struggle to fit everything in. There is always so much to do! Fortunately, I work well under pressure and like to keep busy.
Tell us something about where you like to write.
I am probably at my most productive when sitting at my desk, but my favourite place to write is definitely in bed! My new series which launches next year starts in the Seychelles, and I have to admit I was also very happy to spend a couple of weeks writing on the beach beside the Indian Ocean. With my ipad, I am lucky that I am not tied to any one location and can enjoy writing anywhere.
Thank you, Leigh! To find out more about Leigh and her novels, go to www.leighrussell.co.uk.