I well remember how I first came across the work of that fine novelist, Elizabeth Taylor, when I picked up an old Penguin copy of A VIEW OF THE HARBOUR in Austin's furniture repository and idly leafed through it. I was caught by it and that copy -for which I seem to recall I paid 25p – is on my book shelf along with nearly all her other books
Rarely these days do I come across a writer by chance. So much of what I read has been chosen by my book group, or has been mentioned in a review, has been recommended by someone whose judgement I trust, or is by someone whose writing I already enjoy.
However just recently I did come across a writer by chance – and what a writer. I found Dorothy Whipple on the trolley of books waiting to be shelved in the Fiction section at the London Library. I always like to see what other people are reading and often pick something more or less at random and turn over a few pages. This time I ended up coming home with SOMEONE AT A DISTANCE, first published in 1953 and reprinted by the admirable Persephone Books in 1999 with a preface by Nina Bawden. The preface begins: 'The writing of fiction is a dreadful trade. Critical assessment can be capricious; publishers uncertain: good books perish; bad ones thrive; worldwide bestsellers can sink without trace.' Plus ça change . . . Dorothy Whipple is one of those writers, once popular and well-regarded, who became deeply unfashionable and fell out of favour.
To be honest, I wasn't sure about SOMEONE AT A DISTANCE at first – was the style a little too straightforward, even a little naive at times? – but I read on, somehow gripped almost in spite of myself. And I ended by wanting the novel to go on and on, and by wondering how on earth she had managed to make these people and their predicaments so real. The story is a simple one about a marriage that seems at first unassailable and how it is gradually undermined. Ellen, the wife, has really no idea how happy she has been until it is over. Whipple's description of their lost companionship is masterly: 'A happily married woman acquires the habit of referring everything to, discussing everything with, her husband. Like bad coal, for instance. To be able to say, sitting across the hearth from him in the evening: "Isn't this coal bad?" and to hear him say, looking up from his book at the fire: "Awful. Sheer slate," is to have something comfortable made out of even bad coal.'
When the shipwreck comes, Ellen goes for comfort to her elderly friend, Mrs Brockington, who lives in a residential hotel with other old ladies. 'In the dining room, where the shutters were closed against the night and the lamps on the tables on the table lit under rosy shades, the old ladies waited to be served . . . There was no avid curiosity, no malicious speculation, no self-congratulation that such a thing couldn't happen to them, as there might have been among younger women . . . time had softened them, they had learnt something from loss, helplessness, loneliness: they knew that almost anything can happen to anybody . . . So they tried, without a word, to show Ellen they were glad to have her there; and were almost proud that she should seek refuge among them on this bad day in her life.' They knew that almost anything can happen to anyone. Wonderful. Nina Bawden describes Dorothy Whipple as 'if not a great writer, a remarkably good one.' I agree and I'm going to get the rest of her books out next time I'm in the London Library.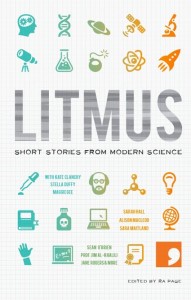 Well, strictly speaking, the main character in my new short story, 'What If?,' didn't come to life, he was alive already and having him comment on what I had written about him was one of the strangest and most fascinating events in my writing life.
This is how it came about. Last year, Ra Page, the editor at Comma Press, got in touch to say that he was planning a volume of short stories on eureka moments in science. His idea was a number of such moments would be suggested by scientists, and writers would be asked to chose one. They would meet the scientist who put the idea forward and learn about the science. They would write their story. The scientist would check it for scientific accuracy and write an afterword.
I was doubtful. My scientific education stopped a very long time ago with O Level Biology (disserting frogs! eek!) and then, what if I chose a subject and couldn't think of anything to write? But then I remembered that I hadn't thought I could write a horror story either – but I had, for one of Ra's earlier anthologies. And I recalled what my husband had said then: 'You're a writer, aren't you? So, write something.'
That was how a few months ago I found myself in a lab in Manchester having the Polymerase Chain Reaction explained to me by a very impressive young scientist, Angharad Watson. PRC was irresistible to me as a crime writer, because it allowed for the first time the amplification of tiny amounts of DNA within a short time and not only revolutionised the study of genetics, but led to the solving of crimes in some cases decades old. It is also the nearest thing to a eureka moment in all of modern science. The idea came to its inventor, a biochemist called Kary Mullis, as he drove from Berkeley to his cabin in Medocino County in May 1983.
Never has one of my stories involved such sheer intellectual graft and several drafts went back and forth before Angharad was satisfied that the science was accurate enough. At the same time it had to stand up as a story. When it was finished, Ra sent it to Kary Mullis. And when he returned it with only a few minor comments, I was very proud.
Publication of the anthology is on the 30 June, and I have a copy beside me as I write. It's got stories by Frank Cottrell Boyce, Stella Duffy, Maggie Gee, Jane Rogers, and many more. The scientists include Professor Jim Al-Khalili. And it's got a great cover, too. You can order it at a reduced price from www.commapress.co.uk/?section=books&page=Litmus
PS. It's a good month for book launches. I am going to Sue Hepworth's this evening.

As well as a reading life, I do of course have a writing life and it would be a lonely place at times without Sue Hepworth. She reads and comments on everything I write, sometimes several times as my work goes through successive drafts – and I do the same for her. I won't say too much about her new novel except that, although I have read it several times in different versions, as soon as Sue gave me my own copy, I started reading it all over again and found it funnier and more touching and perceptive than ever. To mark the launch of BUT I TOLD YOU LAST YEAR THAT I LOVED YOU (Scarthin Books, Cromford, Thursday 9th June, 6.00, all welcome) I've interviewed her for my blog. So over to Sue . .
Sue, how would you describe your new novel?
BUT I TOLD YOU LAST YEAR THAT I LOVED YOU is the portrait of a mature marriage at a crossroads. Intimate, funny, tender and honest. It's intelligent holiday reading with a serious side.
What are the three things you like best about writing novels?
I love writing dialogue.
I take delight in loading my own unpleasant characteristics, and those of people I find annoying, onto my characters.
Lastly, I love it when I am half way through writing a novel and the story has built up some momentum. When I get to that stage, I am living in the world of the story. I wake up in the morning and can't wait to get back into it.
What are the three things you like least about it?
I hate starting a new novel. I loathe writing the first few chapters. It's a chore setting the scene and kicking off the story, and I always have to rewrite those first few chapters many times.
I don't like trying to get agents and publishers interested in my work. It takes up huge amounts of emotional energy, and the whole process takes so long.
That's it. There isn't a third.
How important is a sense of place for you?
I need to have a real place in mind when I write my novels as it helps me to imagine my characters if I think of them somewhere real and specific. I can't dream places up out of thin air: I don't have that kind of imagination. So far my novels have been set in Derbyshire (where I live) or Sheffield (where I used to live) or Northumberland (where I go on holiday) or Wensleydale (where my parents used to live.)
Setting my novels in the Midlands and the North is a conscious choice in another way. I am striking a blow for the provinces. British writers are always setting contemporary novels in London. Why should that be the default setting? There are more people who live outside the capital than live in it.
Describe the room that you write in.
I love my study. One window faces north over the back garden. One faces south over the front garden and lets in loads of sunshine. I over-winter pink and pale purple geraniums on my windowsills, but then I don't like putting them outside again in the summer because I love the colour. Favourite pieces of stained glass that my husband has made also lean against the windows. My walls are painted pale turquoise, and I have prints and paintings of Wensleydale on the wall above my desk, and posters on the opposite wall. My favourite is a giant poster for the film, It's a Wonderful Life. The tops of my bookshelves are loaded family photographs. I've just bought a small secondhand sofa in eau-de-nil velvet which I adore, but it's probably a mistake, because it encourages members of the family to come in and sit down and talk to me when I want to work.
Who is your ideal reader?
My ideal reader really likes people, they have a sense of humour (possibly a dry one), and they are not interested in shopping or designer labels.
Who are your writing heroes? Whose books do you like to read, and why?
Garrison Keillor for his wry humour and his humanity, Carol Shields because she writes beautifully and intelligently about real people and ordinary situations, Maggie O'Farrell, because she combines believable characters with emotional drama in a compelling way. Helen Dunmore writes moving stories, her characters are sympathetic, her writing is very sensual, and reflects what is going on in the natural world and in the seasons.
What are your future writing plans?
I have a new novel plotted in outline, plus the characters who live in it. I have 90 letters which my grandfather wrote to my grandmother in 1907 and 1908 when they were engaged, and I want to do something with them – either use them in fiction, or edit them and publish them as they are. I'd love to write a sequel to Plotting for Beginners with Jane
But all of these are going to have to wait for now. My publishing and marketing have been taking up all my time since Christmas, and I'd like to catch up on my real life, which is crying out to me – my garden, my saxophone, my slackline, my grandchildren.