Some people have music on in the background when they are writing. I don't tend to do that, but there is sometimes a particular piece of music or song that I associate with something I am writing. With Cold, Cold Heart, the Hank Williams classic actually gave me the title as well as playing a small part in the novel and I often listened to it before I began the day's writing. It seemed to tune me into the novel.
In the one  I'm writing now there is a nod to Elvis singing 'The Girl of My Best Friend.' As I listened, I was suddenly young again and it was a sunny summer's day in August 1977. I was in my boyfriend's car and we were driving out of Sutton Coldfield and it came on the car radio: Elvis had died. I can see that stretch of road. There are very few famous people of whom I can say that I have a vivid sense memory of where I was when I heard of their death –  John Lennon, Princess Diana are others – and I suppose that what they have in common is that their deaths were shocking and premature. I wasn't even a particular fan of Elvis – I was too young for that – but  I felt the pathos of his early death. I feel it even more now that I am so much older.
I've enjoyed reacquainting myself with those extraordinary looks and that amazing voice. Browsing on Youtube I came the version of 'Are You Lonesome Tonight?' where Elvis starts messing around with the lyrics and laughs so much that he can't finish the song, while Cissy Houston the backing singer just goes on and on warbling away. It made me laugh out loud. Here it is if you want to brighten a dark November day: https://youtu.be/WoqVFEE1UBY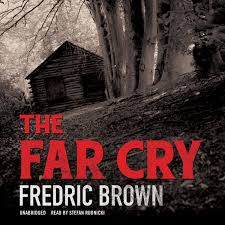 'I've read so many crime novels that I'm rarely surprised by plot twists or startling solutions. So I was pretty sure that I knew where things were heading when I recently read Fredric Brown's The Far Cry – but he totally pulled the wool over my eyes. What an ending! So, fellow fans of GA fiction, which are the novels that have left YOU open-mouthed? No spoilers, please . . .'
I posted this on the Facebook page of the Golden Age Detection group and got some very interesting responses – and a list of books to be added to the TBR pile.
The subject of shocking plot twists seemed worth exploring further here. I am not talking simply about failing to guess whodunit. I mean the kind of twist that takes your breath away, and yet in retrospect makes perfect sense. Recently with a couple of novels famed for their plot twist, I guessed correctly in the first chapter and that's always a disappointment. So it's not often that a writer pulls the rug from under my feet and I love it when they do.
Sarah Waters's extraordinary novel, Fingersmith, did that to me. Hats off to her. Lawrence Block did it too with Out on the Cutting Edge. In GA fiction the end of John Dickson Carr's The Burning Court left me open-mouthed.
Other suggestions from my Facebook friends included Ira Levin's A Kiss Before Dying, Thomas H Cook's The Instruments of Night and Red Leaves, Elizabeth Daly's The Book of the Dead and Robert Barnard's Death of an Old Goat.
Further contributions are very welcome.  Over to you!
PS The Golden Age Detection group is friendly and lively. If you are not already a member, do come and join us.