Books, wine, good company . . .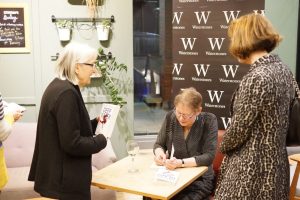 I had a lovely  time on Tuesday at the launch of my new book, Cold, Cold Heart, at Waterstones in Sheffield. Books, wine, good company: what more could one want? A little bit of entertainment, perhaps? I decided to provide some in the form of a quiz about Antarctica, the setting for the novel. There were ten multiple choice questions and the prize was a copy of the latest CWA anthology, Mystery Tour, which I've mentioned before on the blog.
Here is a sample question: which of these will you not find in Antarctica?
A) Emperor penguin, B) Polar bear C) Leopard seal. D) Minke Whale.
That was perhaps the easiest. The winners got seven out of ten so the bar might have been set a bit high, but it was a lot of fun.
There was a good turn-out, especially for a miserable January evening, and there was a mix of good friends and
perfect strangers.
I want to thank Russell, the events manager at Waterstones, for organising the event and enabling me to celebrate the publication of Cold, Cold Heart in style.