Eric Ravilious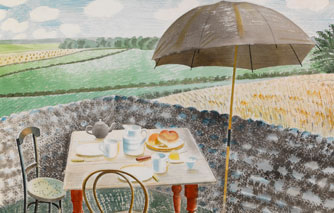 There is a hugely enjoyable exhibition of the work of Eric Ravilious at Dulwich Art Gallery. It's on until August (and the gallery itself is well worth a visit). As I looked at the pictures some lines from Gerard Manley Hopkins' poem, 'Pied Beauty' came to mind. They so much seem to sum up the subjects Ravilious was drawn to:
'Glory be to God for dappled things . . .
Landscapes plotted and pierced – fold, fallow, and plough:
And all trades, their gear and tackle and trim
All things counter, original, spare, strange;
Whatever is fickle, freckled (who know how?) . . .'
Ravilious loved to see rusting farm equipment in a field, boat tackle in a harbour, the contours of the cultivated landscape. His was a quintessentially English sensibility.
For all the pleasure that his work offers, there was sadness, too. He died at thirty-nine, when the reconnaissance plane that he was on was lost over Norway.
It's a gallery that very familiar to me from the years that I lived in south London – I used to take my Open University students there – and I always enjoy going back. I went on what turned out to be the hottest July day on record and the air-conditioning was welcome. There's a good cafe and afterwards we sat outside and drank tea in the shade of a tree.