Snow-bound in real life (and book bargains)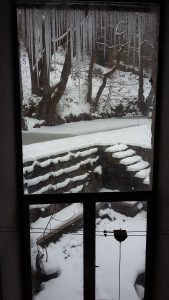 This was the view from our landing window last week after the arrival of the Beast from the East. The snow has all gone now, thank goodness. Although it was so beautiful – what fabulous icicles – it was also very inconvenient. I didn't get my car out for a week and like many other people I had to cancel a lot of plans. I know, I know, if I lived in Canada or Russia or Finland, I'd think nothing of it. But I don't live in any of those places and several winters can go by without this kind of snowfall and bitter cold.
One or two friends pointed out that things could have been worst and that at least I wasn't stranded in Antarctica like the main character in Cold, Cold Heart. Which leads me on to a bit of PR and a couple of bargains. The e-book of Cold, Cold Heart has been reduced for a limited period to £4.19. https://www.amazon.co.uk/Cold-Heart-Snowbound-stone-cold-killer/…/1782642161.
And Deep Water, the first in series, is a snip at £1.19 ($1.49 in the US), also for a limited period. https://www.amazon.co.uk/Deep-Water-Christine-Poulson/dp/1782642145