Terrible Titles; or, What's in a Name?
The Good Wife is not a good title. I feel confident in saying that as it put me off watching the series when it was first on TV. Later, sampling it on Netflix, I loved it and I am now on series 5. It's not easy to put my finger on why the title put me off, but it sounded dull, not my cup of tea, a 'woman's drama.'
Titles are important – and it can be very hard to come up with a good one. There are simple descriptive ones: The Sopranos, Anna Karenina, Tristram Shandy. They get the job done, but are not exciting in themselves. There are titles that tie a series together, as with the late, great Sue Grafton's alphabet series. There are evocative titles: The Wind in the Willows, Snow Falling on Cedars, Tender is the Night. And there are also terrible titles: Ruth Rendell wrote an excellent novel with the title, The Face of Trespass. What does that even mean – as my children say – and what were the publishers thinking? Readers might not be aware that though the writer is consulted about the title, they do not have the final say (and it's the same with the cover).
Publishers sometimes give novels different titles in different countries, which can be confusing. This happened with my first novel, which was published as Dead Letters in the UK. My American publishers didn't care for the title and asked for some suggestions. Among other titles I put forward Murder is Academic (not altogether seriously, if I am honest) and was taken aback when that was the one they chose. Recently we picked a novel by Karin Fossum for our book group. When I got home, I couldn't find The Indian Bride on-line. That's because it is the US title. In the UK it's Calling Out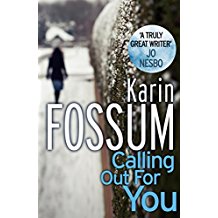 For You, which I think is better for a crime novel (it has a different cover, too).
Titles are on my mind at the moment because I've been trying to think of a working title for my next novel. I can't go on calling it Novel Number 7. It's like calling a baby Child Number 7. I read somewhere that The Pigeon Tunnel was a working title that John Le Carré regularly used, until he finally used it for real. With me working titles  tend to stick, so I'm keen to find something resonant. And besides once a novel has a title it starts to develop an identity.
What puts you off in a title and what attracts you? Over to you for examples of titles that you love – or hate.