Whistle Up the Devil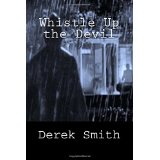 I do like a locked room mystery and I can heartily recommend Derek Smith's Whistle Up the Devil (1953) and newly republished. It's a fairly short novel, which for me is in its favour, and I read most of it over the course of a train journey. It is a familiar set-up – family curse, eldest son murdered in a locked and guarded room at midnight – but done with tremendous verve.  The first murder is followed up by one almost as mystifying, but in a different location. I was gripped from beginning to end. The clues were planted perfectly fairly, but the trick with this kind of novel is to keep you reading at such a lick that you go galloping past them without noticing. Which is exactly what I did. I could have kicked myself at the end, when the solution was revealed.
There are a few weaknesses. Algy, as the gifted amateur sleuth respected by the police, is a pallid imitation of Lord Peter Wimsey, and the characterisation – particularly of the women – made my eyebrows shoot up at one or two points. But no matter, this was a terrific read. In fact I enjoyed it a lot more than John Dickson Carr's The Case of the Constant Suicides, which I read around the same time, and found rather feeble in comparison.